Getting to School Safely 
Walking or riding to school is a great way for your child to start their day, as it stimulates the mind and improves overall health and fitness!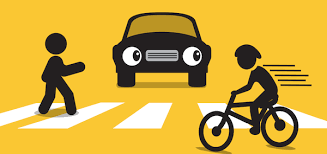 There's a lot of ways to get to school, so Moonee Vally City Council (MVCC) have mapped out the best.
Click here for the interactive map
Find the safest way to school using the map. Type in our school name in the search bar to see the best Active Paths routes, Park & Walk paths and Pink Pick Up/Drop Off zones.
Better Moves Around Schools
Better Moves Around Schools program is run in collaboration with Moonee Valley City Council to improve traffic, safety and parking management, and encourage walking and cycling when travelling to and from school.
School drop off and pick up zones
The drop off and pick up zones are easily identified by bright pink coloured signage and line markings, and they have improved traffic flow and created a safer environment for children to be dropped off and picked up at school.
School crossing supervisors
Resources and Information
Walk to School in November - Primary Schools
Watch this space….
The Walk to School in November and early bird registration details will be available soon.